Mozambique Bursary Project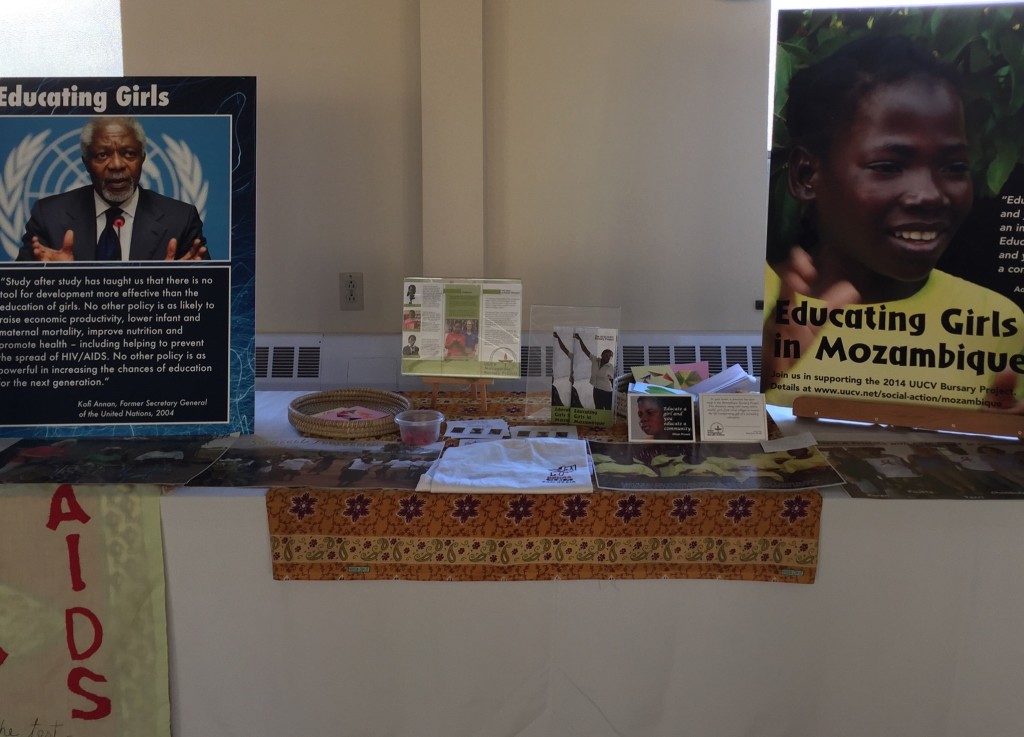 UUCV's Mozambique Girls Education Project
Almost one out of every three sexually active adults in Mozambique is HIV positive, as are many children of HIV infected parents. Girls who stay in school are more likely to delay marriage and motherhood. This reduces the spread of AIDS and slows the rate of population growth. In addition, girls who finish upper primary school (6th and 7th grades) are also more likely to become community leaders, acquire the capability to earn extra money for their families, and see that their children attend school. Thus, helping girls stay in school has sustainable benefits.
For more than 12 years the Social Action Council (SAC) has been raising funds to provide bursaries (scholarships) that have enabled girls from rural villages in Zambézia in Mozambique to attend school beyond the 5th grade level. Each girl who has been supported with UUCV Bursary funds has also been an active member of a village PEDRA club designed to educate girls ages 8-14 about AIDS and its prevention. The extensive network of village PEDRA clubs, funded by Church World Service, currently serves about 440 girls each year. Through the encouragement of PEDRA club leaders, young girls in rural villages are attending school, participating in after-school skills-building activities and postponing early marriages.
How and when did the UUCV help start a Girl's Education project in Africa? One of our members, Priscilla Laws, visited Mozambique to learn more about the sustainable development work done by the son and daughter-in-law of two UUCV members Dan and Joan Bechtel. After her visit in 2004, overseas personnel working with the Christian Council of Mozambique – a non-profit organization in Zambézia – contacted Priscilla about the possibility of UUCV raising "bursary" funds to support PEDRA Club girls who want to attend upper primary school, high school and vocational schools outside of their villages. In order to attend school beyond the 5th grade in rural villages girls must leave their communities and live in residence buildings at secondary school centers in Molumbo or Namarrói, or in vocational schools centers that provide training in elementary school teaching, nursing, or agricultural science.
The UUCV Bursary program started in 2005 when we supported 24 PEDRA club girls who had finished the top grade in their local villages. The program has expanded and since 2008 UUCV funds have enabled over 100 girls to attend school each year either by attending grades 6 through 12 or studying at a vocational school. Several years ago 12 girls chose to enroll in a three-year vocational program at the Nicodala Teachers College rather than go to high school. When they finished the program in 2008, they were hired as elementary school teachers in small villages near their family homes.
The program pays school fees, passage to school and to home at the start and end of each school term, school uniform (skirt and blouse), products for personal hygiene, and school supplies throughout the term depending on each girl's needs in her program.
A bursary costs about $300. Information on how UUCV congregants can make tax-deductible contributions to the project can be found in the monthly UUCV Newsletter and Weekly editions of PreViews. Any amount will be appreciated. The basic procedure for congregants will be to write a check payable to "UUCV Mozambique Bursary." You may mail your check to UUCV or place it in the collection basket on a Sunday morning:
Mozambique Bursary Project
c/o UUVC
P. O. Box 207
Boiling Springs, PA 17007
Can I make a gift in honor of someone? If you want to designate one or more people and honor them with your gift, you can pick up a bursary project "In Your Honor Card" at the Social Action table, fill it out and give it to your honoree. How can I provide information about giving to a friend? Many or our donors are not local or do not attend UUCV. You can pick up bursary materials on the Social Action Bursary table including a project brochure, a bio of some of the girls, and a return envelope to mail to friends.
Questions about the Bursary Project? Anyone associated with UUCV with questions about the Project or the Social Action Council's Bursary Campaign should talk to members of the Bursary Committee consisting of: Priscilla Laws lawsp@dickinson.edu Dianne Dusman dusmania@comcast.net  Deb Genet dgenet@caiu.org Brian McPherson  wbmcp@hotmail.com Susan Rimby srimby@gmail.com June Hoch gjunehoch@gmail.com or Martha Bergsten  martha.bergsten@gmail.com