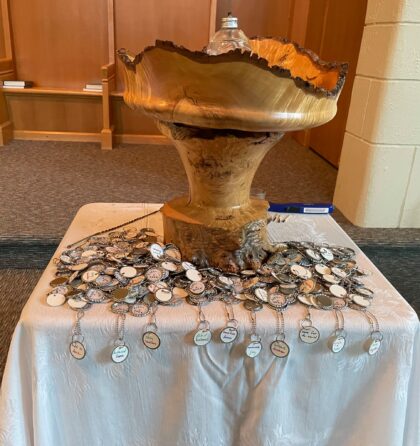 On September 12, we held our 2021 in-gathering ceremony and together, we blessed our 2021 Backpack Tokens. These are small tokens with a UUCV design and one of ten blessings phrases on a chain that you can easily attach to a backpack, purse, diaper bag, or anything else you carry with you.
To receive your Backpack Blessing Token, you can either:
1. Pick Up at UUCV
Pick it up from outside UUCV starting Monday, September 13. Pam will have tokens on a small table outside the door off the parking lot. Come by any time to pick up tokens, and Pam will refresh them each morning.
2. Request Delivery
If you would like Rev. Craig to deliver tokens to your home, please click here to fill out a delivery request. Only one person per household address needs to request tokens:
UUCV Backpack Tokens 2021 Delivery Request Form