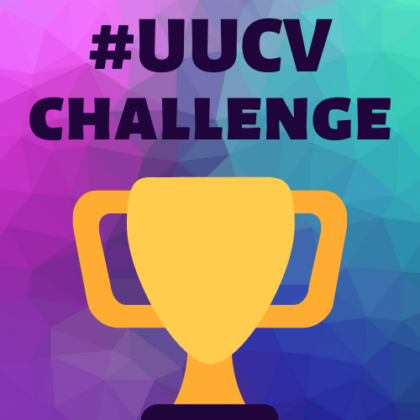 What is #UUCVchallenge?
#UUCVchallenge is a fun way for us to stay connected, keep learning and growing, and find some fun and humor right now.  UUCV folks of every age are encouraged to participate!
How do we complete challenges?
Every Monday, Wednesday, and Friday at 10:00am, we will introduce a new challenge LIVE on Facebook.  To complete the challenge, reply to that video and post a photo or short video of yourself completing the challenge.  Remember to tag it #UUCVchallenge!  If Facebook isn't your thing, email to Emily at RE@uucv.org if you'd rather keep it private.
How many challenges do we have to complete to win?
You must complete at least 12 challenges to complete the #UUCVchallenge.  There is no deadline to enter or to complete the challenges.
How do we keep track of our completed challenges?
First, make sure you use the hashtag #UUCVchallenge with every post you create.  We will also be creating score cards you can mark up digitally or print out and give yourself a gold star for each completed challenge.
What do we win??!
When we are together in person again, everyone who has completed the #UUCVchallenge will take a photo together and receive a… prize?  A badge?  A cupcake?? We aren't sure yet, but we are sure it will be awesome!