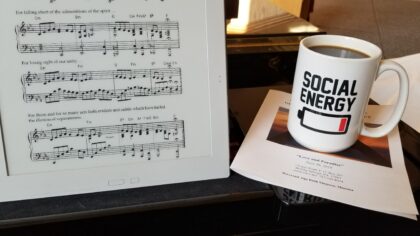 Well, I'm off. Today was my last opportunity to worship with you at UUCV for a while—tomorrow I leave for a cabin in the woods of northern PA that I've dubbed my "introvert retreat." The next two months, for me, will be full of rest, reflection, and reading—and of course I'm expecting there will be quite a bit of unscheduled music-making. I'll be back with you on September 1, with a full heart, a rested mind, and an eagerness to fill this beloved Sanctuary with music again!
In the meantime, among the many things for which I'm grateful are the many gifted musicians who've agreed to lead our worship music for the 8 Sundays of July and August. Accompanists Carole Knisely, Dani Fiore, and Joe Osborne will all be familiar faces to regular worshipers, and they'll be joined by a cast of enthusiastic vocalists, working together to help lead the community in song: Carole DeWall, Tom DeWall, Cathy Dewalt, Rick Heckman, Chris Kapp, Bev Motich, Kristin Schad, and Deb Stille will all make appearances. Please join me in thanking these wonderful folks for sharing their gifts—and of course the best way to do that is to be present in worship each week and, in one of my favorite phrases from John Wesley, to "sing lustily"!
Time being what it is, I'm sure the next 8 weeks will fly by, but I have faith that they will bring rejuvenation, transformation, and renewed creativity to my ministry here. I am grateful to all of you—especially my cherished colleague, Rev. Aija—for the opportunity to claim this time of extended sabbath. The preciousness of this gift is emblematic of the ways in which this community has cared for me over the last 12 years, and I do not take it for granted.
Sing well, my friends. I'll see you in the fall.