Religious Education Children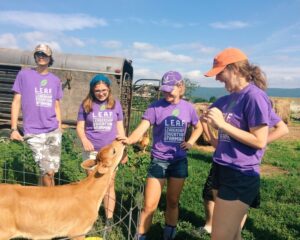 UUCV's Religious Education is for All Ages!
UUCV offers Religious Education for children ages 0-18 in our Elementary, Middles, and YUUth groups. Children will learn and grow in truth-seeking, spirituality, and progressive moral values that will continue to shape and support our children through their lives. Using many learning styles for age-specific programs from preschool on up, UUCV's religious education programs combine story, song, art, movement, discussion, and play.
Interested in more information? Contact our Director of Religious Education
Fall Registration Now Open
It's time to register your child for UUCV's Youth Programs for September 2022 – June 2023.
Sign up your child for our next church year, September 2022 – June 2023 Registration Form 2022 – 2023
Religious Education on a Typical Sunday
10:15 am – Nursery: Children 4 and under can be dropped off at Nursery. A nursery caregiver is available downstairs from 10:15 until 11:45. All nursery children are picked up from the nursery. For the safety of the children in our care all parents are asked to sign their children in and out (sign the Nursery handbook), and first-time visitors fill out a brief registration form. Note: Snack is served. Please alert nursery caregiver of any allergies. PLEASE CONTACT OUR RE DIRECTOR 1 WEEK IN ADVANCE TO ENSURE CHILDCARE IS AVAILABLE.

Coming Again This Autumn!
10:30 am: Service Time! Children ages 4-12 will stay with caregivers for the first part of service.
Elementary (ages 4-8) and Middles (ages 9-12): Kids are welcomed to join us in service in the Sanctuary at 10:30 on Sunday morning. After the Moment For All Ages, kids follow teachers downstairs and take part in Spirit Play or Middles class. Learn more about Spirit Play here or Middles here.
YUUth (ages 13-18): YUUth is available Sunday's during service with facilitators downstairs.
Coffee Hour: After the service ends, everyone is welcome to join us for fellowship at coffee hour. We ask that all nursery and Spirit Play students be picked up by a caregiver directly from their classrooms downstairs by 11:45 am. There is a Children's Corner in the Social Hall with toys.
Volunteering for RE
Religious Education programming would not be possible without the time and efforts of our volunteers. In a typical month, we need at least twelve volunteers to be fully staffed. You do not have to be a master storyteller or talented with crafts to contribute! Here are ways you can help out:
Nursery Caregiver
Spirit Play Teacher
Spirit Play Doorkeeper
Middles Teacher
Youth Group Leader
Adult Discussion Leader
Substitute RE Coordinator
Other family events
Contact the Director of Lifespan Faith Development to learn more about how you can get involved.
Current volunteers, click here for information about completing required PA background checks.
Service Days and Family Events
The RE program strives to offer events and activities for all ages that foster community service, social action, and fellowship among kids and their families. Please keep an eye on our events calendar to see upcoming events
8 UU Principles Project: November-December 2021
The RE Committee put our heads together and came up with a series of activities to engage all ages: an exploration of our 8 Principles, one a week, with a craft or activity designed to spark interest, introspection, and family conversations. Each week, children will have an envelope to open with an activity sheet that goes along with a principle, and a craft or activity to do. Families, if you haven't received your bag yet or you are new to UUCV, please email Emily: RE@uucv.net.
Wait… 8 Principles?? I thought we had 7? Well, right now we do. In 2023, the UUA will vote on whether to adopt an 8th Principle focused on anti-racism and taking action against oppression. Several UU congregations have voted to adopt this Principle ahead of the UUA vote. We are using this kit as a way to introduce families to the 8 Principle concept and engage in deeper thinking about our larger faith community, and how change happens on a big scale. To learn more, visit www.8thprincipleuu.org
We encourage you to post photos, videos, or reflections on the UUCV Families Facebook group so we can share in these activities each week!
Everyone is welcome to download the materials and follow along: each week comes with a worksheet to explore the principle for the week and a suggested activity. Click here to download the PDF: 8 UU Principles Project
Bitmoji Classrooms
Although we are not able to gather in person yet, there will be many opportunities for children and youth to keep learning and growing.
Check out our Bitmoji RE rooms filled with resources to continue religious education and faith development virtually throughout the year. These are webpages made to look like classrooms with images that you can click to take you to various resources. Part of the fun is exploring to see what you can find!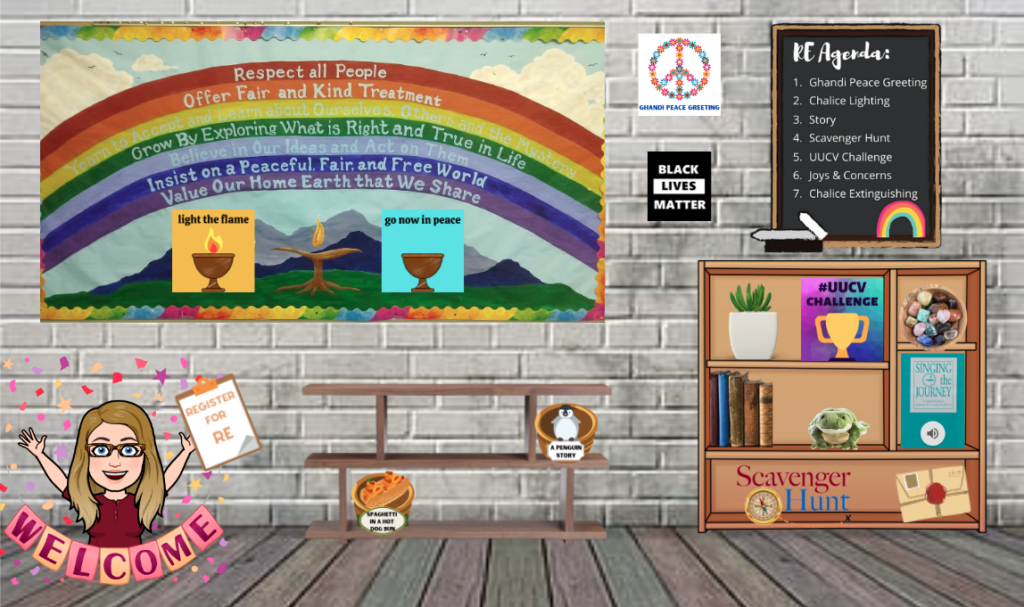 CLICK HERE TO ENTER SPIRIT PLAY ROOM (best for ages 4-9, but open to all)
Suggested agenda for running a Spirit Play session at home
Videos for Spirit Play stories and Story Time with Emily
Link to sign your child up for UUCV Pen Pal program
Anti-racism resources appropriate for young children
Click around to find other fun surprises!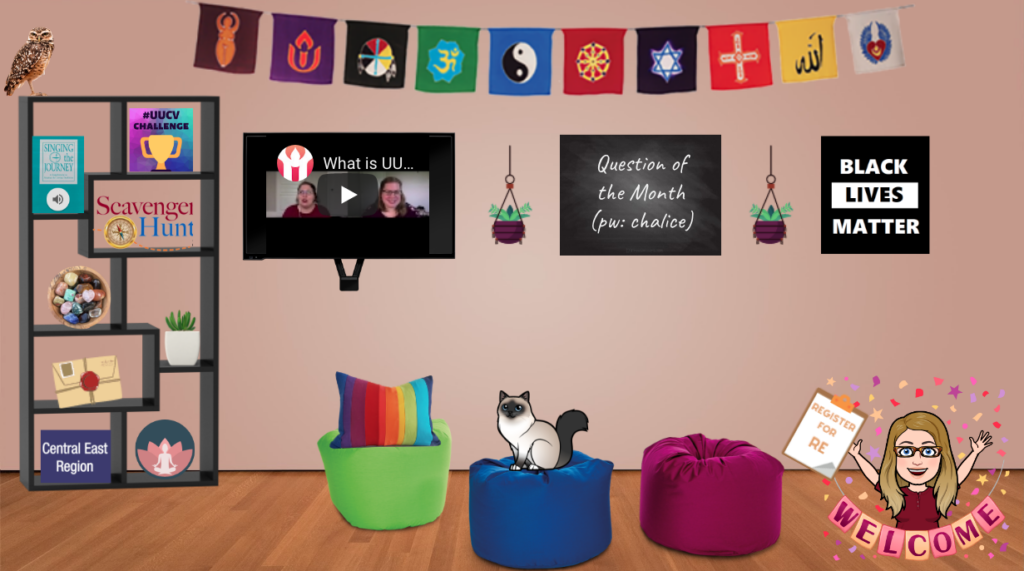 CLICK HERE TO ENTER MIDDLES/YOUTH ROOM (best for ages 9-16; children under 9 may need parental supervision)
Question of the Month: middles can anonymously respond to a different question each month, and "love" others' responses
Link to sign your child up for UUCV Pen Pal program
Anti-racism resources appropriate for adolescent children
Link to Middles & Youth UUA programs happening in our area
Click around to find other fun surprises!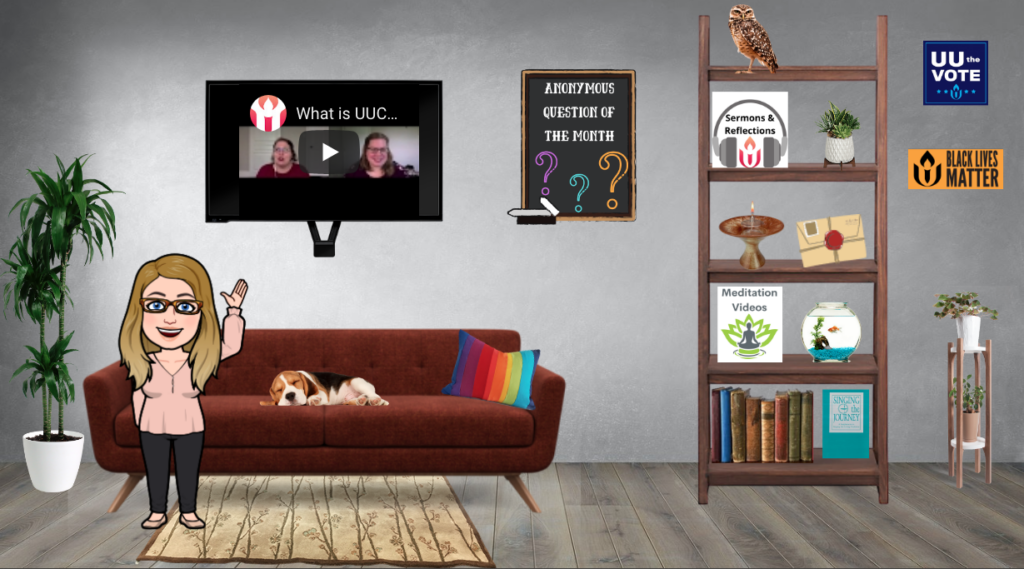 CLICK HERE TO ENTER ADULT RE ROOM (best for ages 16+; some materials may not be suitable for children)
Question of the Month: Miss our bathroom chalkboard? Anonymously respond to a different question each month, and "love" others' responses
Sign up to be a Pen Pal with one of UUCV's children
Anti-racism resources appropriate for adults
Link to recorded sermons and reflections
Click around to find other fun surprises!
Ideas for Using Online Classrooms:
Use the Spirit Play agenda to run an at-home Spirit Play session with your family at home or with your RE Pod
Set aside a time each week for your child age 9-16 to interact with the Middles Classroom, and then talk with you about what they learned
After the Moment for All Ages in service, let children & youth interact with these classrooms on their own on a tablet or laptop
Answer the Question of the Month during your Small Group Meeting (someone with a laptop or tablet can post answers from the group)
Set up a phone or Zoom date with a friend to interact with the Adult classroom together
Director of Lifespan Faith Development
Susan "Jyoti" Kiskis is in charge of coordinating religious education programming for UUCV. She can be reached at 717-249-8944 or via email at re@uucv.net
Our Whole Lives (OWL)
UUCV offers an Our Whole Lives sexuality class for different age groups once a year. Click here for more information about OWL.