Gail Black
Gail Black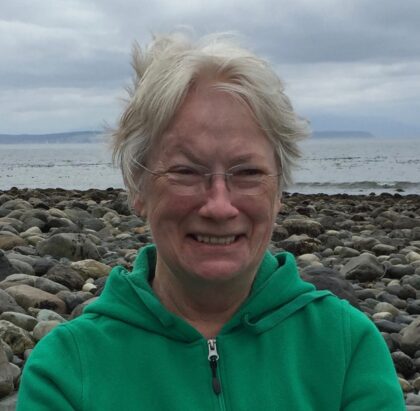 Gail grew up in Camp Hill, graduated from Dickinson College in 1965 and did graduate work in special education, psychology and counseling at Shippensburg and Millersburg Universities. She worked as a special education teacher and then a Positive Behavioral Support consultant for the Capital Area Intermediate Unit for 32 years.
She has been a member of UUCV since 2007 – and has served on the RE, Social Justice, Nominating and Membership Committees – though not all at one time! An enthusiastic member of three different Small Groups (again – not all at once) while at UUCV, she is now one of the Lunch Lovers. One of her favorite activities at UUCV is helping with the children's RE classes.
Gail was president of the Carlisle Area Dog Parks Association board for ten years and is now enjoying serving instead on a board that does not have to resolve issues between beings who sometimes bite others when angry or afraid!
She lives in Carlisle with her best friend – an Australian Labradoodle named Gypsy Rose. Her two sons and their families live in Seattle.