From the Minister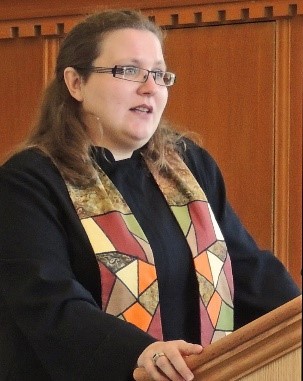 Dear friends,
I think that most of us spend our whole lives struggling between the people we know we might become and the reality of our busy, detail filled lives.  Sometimes, when we are lucky, we are given an extended opportunity of working toward our best, most whole, selves.  That was the opportunity you provided me when you sent me off on sabbatical last year.  And I can promise that I came back a little closer to the person I am always trying to let myself become.  (Though still, alas, not perfect.)  I was able to study meditate, relax and reflect.  I came back with deep gratitude: for all of the gifts in my life, for all of the people who have helped guide my path and for this congregation.  I know it made me a happier, healthier person and I think it made me a better minister.
With this in mind, I'm happy to let everyone who has not yet heard know that as of July 1st, we will be sending David off on his first sabbatical in his 12 years at UUCV.  David will use his time differently that I did, but I know it will be meaningful.  With that in mind, I'm turning the rest of this column over to David so he can talk about his plans.  I know he is excited, and I am excited for all of the new ideas and energy he will come back.  So here you go:
"God rested."  That's how the Jewish scriptures conclude their first creation story.  The implication (and the origin of the shabbat tradition) is that if God needs a break, so do we.  So the first thing I did after learning my sabbatical had been approved was book a week alone in a secluded lakeside cabin in the woods of northern Pennsylvania.  On July 1 I'll be loading up the Subaru with all of the essentials for the musician on retreat: bottled water, a cooler of groceries, insect repellant, sunscreen, lifejacket, Kindle.  And, of course, a digital keyboard and a MIDI-equipped laptop with updated composing software.  (If I do nothing during that week but nap, read, and appreciate nature, I'll consider it time well spent, but one does want to have the tools at hand to honor the muses when they call.)
Later in July I'll spend a week at Shenandoah University's CCM Vocal Pedagogy Institute, learning about the science behind vocal expression—a field for which I hold a particular passion, and which helps me in my own performing, in my teaching, and in my work with the UUCV choir.
Then, shortly after returning from Virginia, I'll board a plane and head to Denver for the 2019 annual conference of the Association for Unitarian Universalist Music Ministries (formerly UUMN).  That conference is always my favorite opportunity of the year for networking and professional development, and this year's focus on the music of composers of color is tremendously exciting to me.  And as a special introvert treat to myself, I've opted not to fly back home—instead, I have an Amtrak sleeper car reserved for the 3-day trip.  It's not often I have the freedom to enjoy the journey as much as the destination!
My August calendar is far sparser than July's—once I'm back on the east coast I'll have several weeks to focus more on what I'm calling "rejuvenative kenosis."  There will be some family time, and a few other "rainy day" projects I may find time for at last, and I may find myself writing music or being creative in other ways.  But my primary goal for this sabbatical is to return rested, refreshed, and excited to resume my ministry at UUCV!
Aija here – if you have any questions about how things will work in David's absence, feel free to ask either one of us.  For now, I hope you will join me in offering David a renewing sabbatical.
In faith,
Rev Aija & David
Worship Information
The Worship Theme for June is "Looking Back, Looking Forward"
June 2:

"Where We Sit" How does where we are affect who we are?  Rev. Aija Simpson preaching with worship associate Gisela Roethke.
June 9:

"Celebrating Growth" As our term of Religious Education comes to a close, we celebrate a year of growth and community with a multigene service featuring RE students and volunteers.  Bring a dish to share for a potluck service after service in the Social Hall.  Rev. Aija Simpson preaching with RE Families assisting in worship.
June 16: 

"The Revolution will be Televised (Poorly)" As we honor the 5th anniversary of the Stonewall Uprising we ask: who gets to tell our stories? What will out children remember?  Rev. Aija Simpson preaching with worship associate Rachel Teates.
June 23:

"GA? So What?" Thousands of UUs from around the world gathered in Spokane, WA this past week for our annual UUA General Assembly. What does this gathering mean for the UUCV community and for each one of us individually?  Intern Cindy Terlazzo preaching.
June 30:

  Rev. Dr.Kathy Ellis will lead the service with  worship associate Julie Ham.
Support UUCV Fundraisers
You will find many UUCV volunteers working on Saturday, June 1 at the UUCV Strawberry Booth during Foundry Day in Boiling Springs.  Stop by and purchase a delicious Strawberry Shortcake and don't forget to check out our yard sale in the front lawn of UUCV.
Auction Planning Meeting
Survey says – we like the Auction and want it to continue. Since that is what we want, we need to begin planning for Auction 2019. A meeting has been scheduled for Sunday, June 9 AT 9 AM in the UUCV Board Room. Your ideas and enthusiasm are welcome and needed as we brainstorm, pick a theme, and set a timeline. Please be assured that attending the meeting does not lock you into any specific task! Please RSVP to Wendy Gebb at wendywinter@comcast.net. Thank you.
Also on SUNDAY, JUNE 9 AT 9 AM those with ideas for NEW Fundraising Initiatives are invited to meet with Heather Woodward in UUCV's Dining Room.
Potluck – Bring a Dish to Share

Let's all gather on Sunday, June 9 after service for a Potluck Luncheon.  Bring a dish to share with all.  Hope to see you there!
Adult Ed Book Group

Join us Sunday, June 23, 2019 from 6:30 to 8 PM to discuss Educated: A Memoir by Tara Westover.  Born to survivalists in the mountains of Idaho, Westover was seventeen the first time she set foot in a classroom. She graduated magna cum laude from Brigham Young University in 2008 and subsequently winning a Gates Cambridge Scholarship. She earned an MPhil from Trinity College, Cambridge in 2009, and in 2010 was a visiting fellow at Harvard University. She returned to Cambridge, where she was awarded a PhD in history in 2014. This truly amazing story is one of the ten best books of 2018. Bev Ayers-Nachamkin will lead the discussion.
On July 28, 2019 the group will discuss The Hate U Give by Angie Thomas.
On August 25, 2019 the book is Leonardo Da Vinci by Walter Isaacson.
What Will YOU Do This Month? — June 2019
Join US at Project SHARE's Farm Stand!
When: Thursday mornings, June 13th and 27th from 9:30 – 11:00ish
Where: Farm Stand is located at 123 Lincoln Street, Carlisle
Why: To sort located donated fruits, vegetables, baked goods for distribution to those in need.
Live our mission!  Please sign up at Social Justice table.
Consider joining in our Beloved Conversations program – begins in October.
Save the date for Central PA PRIDE Festival – July 27th. 
Additional information and volunteer sign-ups will go up in mid-June.
Change For The World – YWCA Sexual Assault/Rape Crisis Services of Cumberland County
The YWCA's Sexual Assault/Rape Crisis program offers a 24-hour Hotline for victims of rape and sexual assault, accompaniment to legal and medical proceedings, individual counseling for victims and their significant others, support groups, advocacy, and prevention/education programs to professional and civic groups, and students in Cumberland County schools.  All Sexual Assault/Rape Crisis Services are free and confidential.
Yes! We are Getting a New Roof!
That's right, folks! First up on the list of building projects for the Capital Campaign will be replacing our leaky roof. Finally! Roof bids are going out. By early fall we will permanently retire the plastic on the ceiling and return the trash cans to their original locations. We'll be dancing in the aisles for sure!
Now, let's talk about finances. 45% of the total pledged has already been received, and withdrawals occur monthly to help support the fulltime Director of Lifespan Faith Development position. A key part of the financial planning is to ensure funds are available to pay contractors as work is completed. Standard operating procedure for commercial building projects involves establishing a line of credit for disbursing payments. UUCV's Capital Campaign consultant, Barry Finkelstein, has assured the Steering Committee that establishing a line of credit to cover outstanding pledges is how capital campaign building projects operate.
Over the past several months, the Steering Committee has worked through a lengthy bank process to establish a non-revolving line of credit for a maximum sum of $210,000. This is our guarantee to contractors that they will be paid for completed work. We will use our own cash on hand first, drawing on the line of credit only when needed. As pledge dollars continue to be received over three years, borrowed credit will be repaid. Finalizing this line of credit, approved by UUCV's Board of Trustees, means we are financially prepared for bids to go out on multiple projects.
We of the Capital Campaign Steering Committee are extremely excited to begin work on our building. Getting the roof replaced has always been where we wanted to start. We cannot thank all of you enough for your faith in UUCV and your willingness to support our needed improvements.
Submitted by Paula Terry and Deb Stille
for the Capital Campaign Steering Committee
Join in Our Beloved Conversations
At UUCV, our mission statement reminds us that we gather to:
Transform lives and care for the world.
One of the most transformational ways we can live into our mission this fall is through participating in Beloved Conversations.
Beloved Conversations is an experiential curriculum that provides a space to re-form the brokenness of racism into new patterns of thought and behavior ushering in social and spiritual healing. New ways of being are learned through the actions of conversation and probing dialogue.
The program will begin at UUCV with a 1.5 day retreat, Friday, October 11 (6-9pm) – Saturday, October 12 (8:30am-5pm) and will be facilitated by the Rev. Ashley Horan.
The retreat will be followed by 8 two-hour sessions, led by Cindy Terlazzo, Kathy Ellis, and Emily Crutcher (held roughly every other week following the retreat) of guided dialogue/experiential exercises (with small groups of 9-12 participants), which will be facilitated by members of UUCV.
We hope to offer the follow-up sessions on:
Saturdays from 10 AM – Noon – October 26, November 9 & 23, December 7, January 4 & 18, February 1 & 15

Wednesdays from 6:30 PM – 8:30 PM – October 23, November 6 & 20, December 4, January 8, 15 & 29, February 12

Cost – a fee of $40 (or pay what you can) is being requested to pay for meals for the retreat weekend.
Contact Pam 717/249-8944 pam@uucv.net for more information
UUCV's Status with the Unitarian Universalist Association (UUA) – Questions and Answers
At the recent Annual Meeting, the congregation approved the FY19-20 budget reflecting a reduced payment of Annual Program Fund dues to the UUA and our Central East Regional Group (CERG). Supporting information is provided below. If you have any additional questions, PLEASE ASK a Board member or Rev. Aija.
Will UUCV remain a member of the UUA if we don't pay the full dues?
Yes, we continue to preserve our status as a certified UU congregation if in the prior year we have fulfilled these three obligations of a member congregation:
(a)  conducted regular religious services;
(b)  held at least one business meeting of its members, elected its own officers and maintained adequate records of membership; and
(c)   made a financial contribution to the Association
We will be making a partial payment next year, which is sufficient to meet the financial obligation, though we will not be considered an Honor Congregation. We continue to comply with the requirement to report information annually.
How are the UUA/CERG dues assessed?
Every congregation in our Association is asked to contribute to the Annual Program Fund. Two years ago, the UUA moved from a simple calculation by membership number to a more complex Annual Program Fund (APF) formula that also considers the congregation's annual reported budget. We have and will continue to pay a portion of the bill but have decreased our financial contribution for FY19-20 in order to balance our own budget.
Will we still have the right to vote at the UUA's annual General Assembly?
Yes, since we continue to be a certified congregation, we can still send delegates and vote at the General Assembly.
What other measures are we taking to be able to reinstate our standing as an Honor Congregation (paying full APF dues)?
We have already imposed a freeze on staff spending. We are looking at some additional opportunities for fundraising (meeting on June 9 to brainstorm!). We will be conducting a full pledge campaign for next year's budget and hope to regain some funding with additional emphasis on Fair Share donations.
Grocery Cards – Easy fundraiser for UUCV
Don't forget to stop by the Grocery Card table after service on Sundays to buy a Giant, Karns or Weis card to purchase all your picnic groceries.  This is a great fundraiser for UUCV – we receive 10% of the face value of every Giant Card sold and 5% for each Karns and Weis card sold.  Cards can also be purchased during the week in the church office Monday, Tuesday, Thursday and Friday from 8:30 am – 1:30 pm and on Wednesdays from 10:00 am – 3:00 pm.  And you can use your Giant card for gas, Carlisle Borough Trash Bags, prescriptions, and beer for those over 21!
Upcoming Open Auction Events
The auction is over but there are still open events that you can attend.  Contact the event leader or Pam in the office 717/249-8944 or pam@uucv.net to sign up and submit payment.  For full details on events, check out the booklet online http://www.uucv.net/wp-content/uploads/2018/11/Booklet-final.pdf
Upcoming open Auction Events:
Paint Night with UUCV Artists–September 21 at 7:00 $45/pp
Hosts: UUCV Artists
Contact Pam in the office to sign up and for payment options 717/249-8944 or pam@uucv.net
Smile.Amazon and make money for UUCV
When you do your amazon online shopping, use https://smile.amazon.com/  and choose Unitarian Universalists of Cumberland Valley as the charity you would like to support.  You only need to enter our name in once, and it will remain the charity until you change it.  UUCV receives quarterly checks based on the amount spent on this site.  There is no extra cost to you.